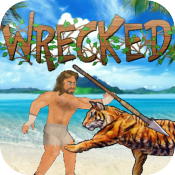 Wrecked is an island survival simulation game created by solo developer MDickie. The 3D version of the game is playable only on PC and computers, as the game can be downloaded from MDickie's home site: http://www.mdickie.com/
-The 3D version is fairly similar to that of the newly released mobile 2D version, available on IOS platforms and Android.
-The 2D version has several more updated tweaks and features as well as improvements. It was released in 2017.
-The game is about spawning into a mysterious island that is separated from modern civilization and relying on natural resources to survive. The island is filled with predatory animals, other fellow castaways, Native American tribes, and tools and weapons that can be crafted for multipurpose use. You can also ride on animals to move around more quickly such as horses, which can be frequently found throughout the land. Seemingly, more of these features debut in the 2D mobile version, with extra gore such as the dismemberment of the limbs and decapitation of the head. Also, more clothing and items are available in the 2D version and some of them are even present in the other 2D mobile games, such as Wrestling Revolution 2D, Booking Revolution 2D, Wrestling Revolution 3D, School Days, Hard Time, and Super City. The game also features crafting abilities, such as combining two resources to make a tool or item (ex: Stone + Stick= Hammer) and displays their recipes in the "Pause" menu of the 2D version. The game received many positive reviews and has since amassed many downloads on IOS and Android platforms.